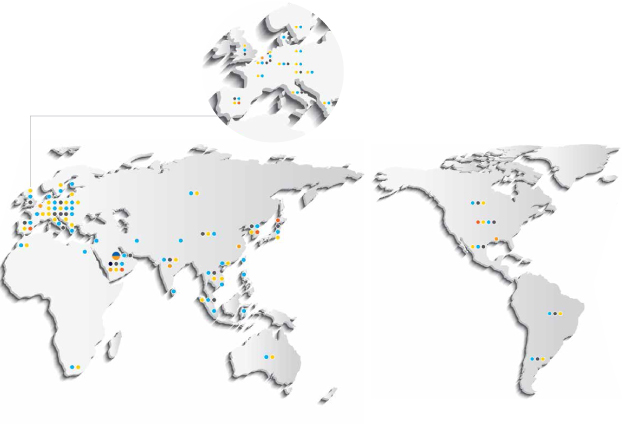 SABIC is a global company working on the challenges of a changing world.We have business operations in over 45 countries. SABIC innovations share one thing in every region and market:a positive and transforming impact on the lives of people and the environment.

GLOBAL HEADQUARTERS
Saudi Arabia

TECHNOLOGY CENTERS
China, India, Netherlands, Saudi Arabia,United States of America

APPLICATION CENTERS
Japan, Saudi Arabia, South Korea, Spain,United States of America

SABIC CORPORATE RESEARCH AND INNOVATION CENTER
Saudi Arabia

DISTRIBUTION,STORAGE FACILITIES,AND LOGISTICAL HUBS
Argentina, Australia, Austria, Belgium, Brazil,Canada, China, Czech Republic, Estonia,France, Germany, Greece, Hong Kong, Hungary,Italy, India, Japan,Malaysia,Mexico, Morocco,Netherlands, Poland, Russia, Saudi Arabia,Singapore, South Africa, South Korea, Spain,Sweden, Thailand, Turkey, United Kingdom& Ireland, United States of America, Vietnam

INTERNATIONAL SUBSIDIARIES AND SALES OFFICES
Argentina, Australia, Belgium, Brazil, Canada,China, Czech Republic, Denmark, France,Egypt, Germany, Greece, Hungary, India,Indonesia, Iran, Italy, Japan, Lebanon,Malaysia, Mexico, Morocco, Nepal, Netherlands,Philippines, Taiwan, Thailand, Poland, Russia,Saudi Arabia, Singapore, South Africa,South Korea, Spain, Sri Lanka, Sweden, Turkey, Vietnam, United Arab Emirates, United Kingdom & Ireland, United States of America

MANUFACTURING AND COMPOUNDING COMPANIES
Argentina, Austria, Bahrain, Belgium,Brazil, Canada, China, Germany, Italy,India, Japan, Netherlands, Malaysia, Mexico,Saudi Arabia, Singapore, South Korea,Spain, Thailand, United Kingdom & Ireland,United States of America.
About SABIC
Saudi Basic Industries Corporation (SABIC) ranks among the world's top petrochemical companies. The company is among the world's market leaders in the production of polyethylene, polypropylene and other advanced thermoplastics, glycols, methanol and fertilizers.
SABIC recorded a net profit of SR 25.3 billion (US$ 6.7 billion) in 2013. Sales revenues for 2013 totaled SR 189 billion (US$ 50.4 billion). Total assets stood at SR 339.1 billion (US$ 90.4 billion) at the end of 2013.
SABIC's businesses are grouped into Chemicals, Polymers, Performance Chemicals, Fertilizers, Metals and Innovative Plastics. SABIC has significant research resources with 19 dedicated Technology & Innovation facilities in Saudi Arabia, the USA, the Netherlands, Spain, Japan, India, China and South Korea. The company operates in more than 45 countries across the world with around 40,000 employees worldwide.
SABIC manufactures on a global scale in Saudi Arabia, the Americas, Europe and Asia Pacific.
Headquartered in Riyadh, SABIC was founded in 1976 when the Saudi Arabian Government decided to use the hydrocarbon gases associated with its oil production as the principal feedstock for production of chemicals, polymers and fertilizers. The Saudi Arabian Government owns 70 percent of SABIC shares with the remaining 30 percent held by private investors in Saudi Arabia and other Gulf Cooperation Council countries.
Dated: 1 Oct 2014