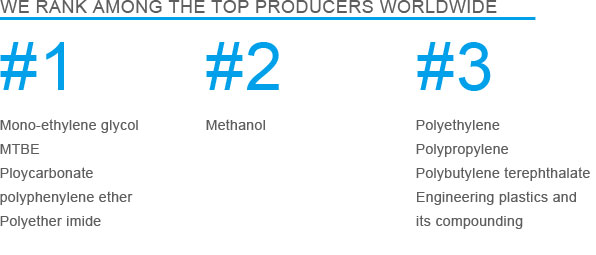 >CHEMICALS
Our largest operating unit manufactures the essential building blocks for a wide range of advanced chemicals, plastics and materials used in every day life around the world.
Olefins and gases
Oxygenates
Aromatics and chlor-alkali
Glycols
>POLYMERS
We help find the right alternatives to replace traditional materials-wood, cotton or glass-used in a vast array of consumer and industrial products.
Polyethylene
Polypropylene
Polyethylene terephthalate
Polyvinyl chloride
Polystyrene
>INNOVATIVE PLASTICS
Our portfolio of nearly 30,000 thermoplastic resins, specialty compounds, films, sheets, foams, fibers, additives and intermediates provides innovative solutions for industries including automotive, electronics, healthcare, lighting and construction.
LEXANTM, NORYLTM, ULTEMTM, VALOXTM, XENOYTM, CYCOLACTM, CYCOLOYTM, EXTEMTM, GELOYTM, and XYLEXTM, resins
LNPTM, specialty compounds
Specialty film and sheet
EXATECTM, glazing technology
SABIC® PP compounds and SABIC STAMAXTM long glass fiber-filled PP
Specialty Additives and Intermediates
>PERFORMANCE CHEMICALS
Our newest SBU, created to produce and market technologically advanced chemical derivatives. We tailor high-value chemicals for specialized industrial and consumer applications.
Ethanolamines
Ethoxylates
Linear alpha olefins
Catalysts
2-EH
N-butanol
DOP
Acetic acid
Acetone
>FERTILIZERS
We are a global leader in the fertilizers industry, supplying a comprehensive portfolio of nitrogen-based inorganic products. We help solve the world's food supply challenges with a leading position in Middle East, Far East, Africa and the US.
>METALS
As a leader in the Gulf region for steel production and manufacturing, we produce high-quality metals, and have played a vital role in the construction and industrialization of some of the world's fastest growing economies.
Dated: 1 Oct 2014